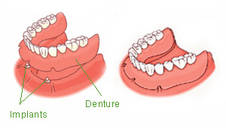 Learn about one day dentures
Old dentures problems, accidents, tooth decay and gum disease can all lead to the need for new dentures. When it comes to this type of dental problems, there are many options available to choose from such as: permanent dentures, cosmetic dentures, full dentures, partial dentures and denture implants.

Getting dentures can be a real drag. Most people avoid going to the dentist because they're worried about needing implants. Nowadays, a large number of people are choosing one day dentures. Also known as "same day dentures", one day dentures are typically suitable for two types of patients: those who are looking to replace their current dentures and those who have undergone extractions and whose gums have recently healed.

If you're looking to get your dentures as quickly as possible, then one day dentures are definitely your best bet. One day dentures allow candidates to have new dentures manufactured and installed the same day they go in for them. If this sounds like a reasonable option for you then make sure set up a consultation right away! Feel free to discuss the pros and cons of one day dentures with an experienced dentist before making a decision. Visit a dentures clinic today!